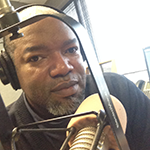 Finding Purpose​
At the age of seventeen, Dermathe experienced a divine encounter with God that left him shaken but unsure of his standing in God's eyesight. From that night forward, Dermathe was sure that God had a purpose for his life. Finding that purpose took five more years of struggle.
Preparation for Ministry
At the age of twenty-two the doors opened for Dermathe to enter ministerial training. He began serving as a janitor at a local church, a humble position that grew into that of a sound technician, then, an occasional worship leader, a youth minister and counselor and a Sunday school teacher.
Through each phase of training Dermathe felt the Lord calling him to minister to His people in a "hands on" fashion. Whatever need arose, God gave him the provision to meet it. Over the next several years the Hand of the Lord led Dermathe through various congregations different aspects of contemporary Christianity. During a reflective period, the Lord prompted Dermathe to serve as an usher in a large Charismatic church in south Seattle, Washington.
Call to Radio Ministry
After another life-altering encounter with the Lord, Dermathe accepted God's Call to pastor a small congregation in Des Moines, Washington for over ten years. Since then, the Lord has turned Dermathe's attention to full time radio ministry.
Education
Bachelor of Science in Psychology, with a specialization in Christian Counseling and a minor in Christian Ministries from Liberty University Masters & Doctorate in Theology from Omega Bible Institute and Seminary
Master of Arts in Human Services with a Cognate in Marriage & Family, from Liberty University
Blessings
Dermathe is the proud father of three children, a daughter and two sons. His passion in life is to motivate people to take spiritual action and pursue a Higher Calling in Jesus Christ.